2008 predictions Quantum Leap in Consciousness
Now Playing: 2008 Magical Mystery Tour Year
Topic: star predictions 2008
2008 The Magical Mystery Tour Year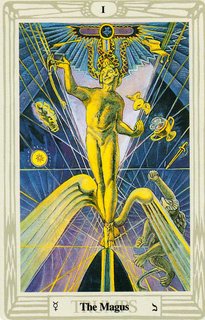 It is a #1 Year Numerologically a brand new cycle.
2 + 0 + 0 + 8 = 1
The # 1 Tarot Card Trump is the Magician, and the Magician symbolizes Consciousness itself, represented by the winged androgynous messenger God and the planet Mercury. So this year alludes mainly to a new cycle relating to how we think and communicate, and especially how we understand, use and direct our consciousness, how with our conscious minds, we magically create our Reality, our world. "Cogito ergo sum" translated as"I think, therfore I am" has never seemed truer than now, but with a twist, from the most recent findings and observations into the nature of the atomic structure of the Universe so far.
The Magician used to bring to mind Houdini, images of caped entertainers sawing lovely ladies in half, a trickster, illusions, the mystery and wonder of magic. As our awareness, knowledge and consiousness is expanding The Magician symbolizes the magical/scientific world of Quantum Physics.

What has now become quite popular parlance through film such as What the Bleep, The Secret,the popularity of Scientific Theories about space, Steven Hawking, the structure and nature of reality, consciousness raising, the Law of Attraction, etc. is now manifesting as the synchronicity of this #1 year and the Magician's symbolic message to us all pointing us to practicing magic as an every day moment to moment choice centered awareness.
According to Quantum Physics everything in the Universe is interconnected, you as a conscious observing entity co-create this Universe, consciousness is, as far as I can tell the fastest thing around, faster than the speed of Light.

Bringing Quantum physics together with the psychological thesis of Carl Jung about synchronicity, and the Collective Unconscious which is the underlying unifying pool of Archetypes pre-figuring this world, we see the power of the Tarot and its Archetypal Symbols and Numbers as a Quantum Bridge, like a signpost directing us "home."

The #1 Key for 2008 is that this is an initiation year. The year we need to initiate magical thoughts and dreams, magical thinking which become magical words, deeds and magical living. We are being notified to BE THE MAGICIAN everyday. Practicing magic as an every day moment to moment choice centered awareness. It's not hocus pocus, or sleight of hand.
I think therefore I am is another way of putting Quantum Physics and you create your own reality. You are being initiated as a Magician, your magical wand is your mind, your thoughts themselves-remember consciousness travels way faster than Light, your thoughts are the most powerful things in the Universe. The Universe is itself a thought form of the Great Mystery, slowed down and manifested as a Third Dimensional Solid seeming world.
Usually we are not even totally aware of the plethora of thoughts running through our minds. It's time to get to know your tools, hone your tools, care for your magic wand - consciousness. Consciousness is energy, which never dies. According to Quantum Physics your consciousness is everywhere in all Dimensions at once simultaneously.
So whatever you think, manifests, everywhere in the Universe and eventually slows down and becomes a reality in 3D.

Usually we are UNconscious, the mind moves so fast and with such complexity we are not aware of all the thoughts. The Magician, is a double, androgynous being. The brain has two sides, there are 2 sexes, yin, yang, 2 polarities, we live in an apparent world of duality. So the Magician symbolizes both states of mind Conscious and Unconscious. While writing UNconscious,I realized that the United Nations -the UN-symbolizes the very Unconsciousness of this stae we're in.
Teh Universe always is sending us it's messages, often quite humorously. Remeber the Magician is a trickster.
The God Mercury carries a rod, around which are entwined two snakes. We are all familiar with his wand, it is known as a cadeusis, and it is the symbol Doctors and Pharmacies use, it symbolizes medicine and healing. It is esoterically a symbol of the spinal cord, and the brain and it represents what's called in India, kundalini energy. This kundali is symbolized by a snake lying coiled dormant at the tail of the human spinal column. The key is to activate kundalini energy by specific breathing techniques, meditations and exercises to awaken the snake-who we know of from the Christian story of the Garden of Eden-to uncoil itself and bring it's energy up through the chakras or energy centes in the body to the brain, or crown chakra where when activated we awaken multi-dimensional consciousness, or the thousand petalled lotus, a Buddhist term. This snake symbolisim also has a double edged sword. It is powerfull and dangerous.
As we are all programmed biologically to fear actual poisonous snakes as a survival mechanism,the snake symbol, since very ancient times was connected to the original spiritual worship of the Goddess.
There are many statues and carvings of ancient Goddess figurines holding two snakes, another form of depicting control of the kundalini energy.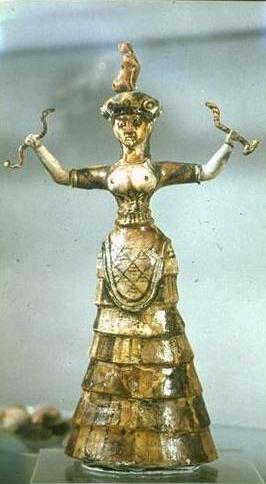 Ancient oracles at Dellphi prophecised using snakes as their mediums. The snake was an analogy of menstruation, of Women's power as birth givers, the shedding of the snakes skin being symbolic of women's monthly periods. Women, like the snake could bleed and not die every month, now that's magic. The fear of snakes, and of using our totality of mind, and of women's magical power all came together and the Matriarchy, the knowledge of how to control kundalini energy was brought down and dispared by the Patriarchal take over. We in the West lost our power to connect our minds with the natural rhythms of nature, our bodies and our world and substituted reason, science, power over and separation with our interconnectedness.
Kundalini energy must be awakened properly and slowly and usually requires trained experienced teachers. It is very dangerous and powerfull just like a real snake and people can fry their brains if not properly ready. So be warned how powerfull that thinking tool in your head is.

So begin to observe your unconscious thoughts, these are humming away beside your conscious thoughts and if you make an effort you can perceive them or notice if you say you want to do something but also get a sensation that you don't want to do something. The part that says I dont' want to do it is your subconscious thoughts.
The Unconscious comes through in our dreams as symbols and that is also an area where consciousness must be directed to. Dreams are very powerfull and the symbolic language of dreams speaks to us from our souls in the most direct way. Pay attention to your dreams, watch your symbols, work with your dreams make the unconsious consciouss. Otherwise you are walking around asleep being run by old unconscious memories and thought patterns.
The greatest treasure is the Unconscious, or the shadow. Dark and Light, duality, the realm of the Magician. It all fits together.

The current popularity of Harry Potter, paganism, fantasy, spirituality, conscious awareness, human potential, native american beliefs, shamanism, self-help are all driving forces in popular culture because the consciouss Age of Aquarius is dawning now. The media always reflects the Archetypal worlds, the Collective Unconscous.

We are beginning to become multi-dimensional this year. As everything goes faster, it is time to use the mind to master time, it can be made to dilate, slow down. As a species, if all humans examined and worked with their shadow sides, what we see as projections like movie screens, as "others" anyting anybody any situation outside of ourselves is simply a manifestation of our own inner and collective thoughts. Pretty scary stuff. But as we now know that we create our reality the thing to do is own it, bless it and awareness is everything. Awareness is more valuable than gold. What we are aware of can't really hurt us. But what we love and accept cannot hurt us at all.
Once the hard work of integrating the shadow, sing Me and my shadow, the Unconscious, is done, then our positive thoughts have tremendous power, released from the Unconscious' polar opposite hold on us. The Unconscious can be reprogrammed. The mind is just like a computer, In fact we've developed all this technology simply to show ourselves what's possible, what can be done. We create 3D metaphors for what is inherent already with in us. We project out into the world the powers of the mind itself.
Reboot your mind. Clean off the desktop. REprogramme your mind so the Unconscious is on the same side as your positive conscious thoughts, otherwise you are driving with the brakes on. It's the them and us story again, the twin sides of the snake. The snake, the kundalini, your cosciousness must become whole and completely made over into the one magical wand.

Wherever you point it-so mote it be. 2008 the Magical Mystery Tour Year.
Rollup for the Mystery Tour, Roll up!
Posted by taratarotweb at 4:08 AM EST